Our Repeaters
The Huber Heights Amateur Radio Club (HHARC), Call Sign NO8I, supports two repeaters located just north of the city of Huber Heights, Ohio. The frequencies are 442.950+ PL 118.8 Hz and 224.300- PL 123.0 Hz.
---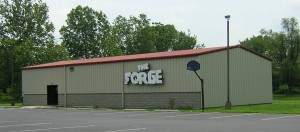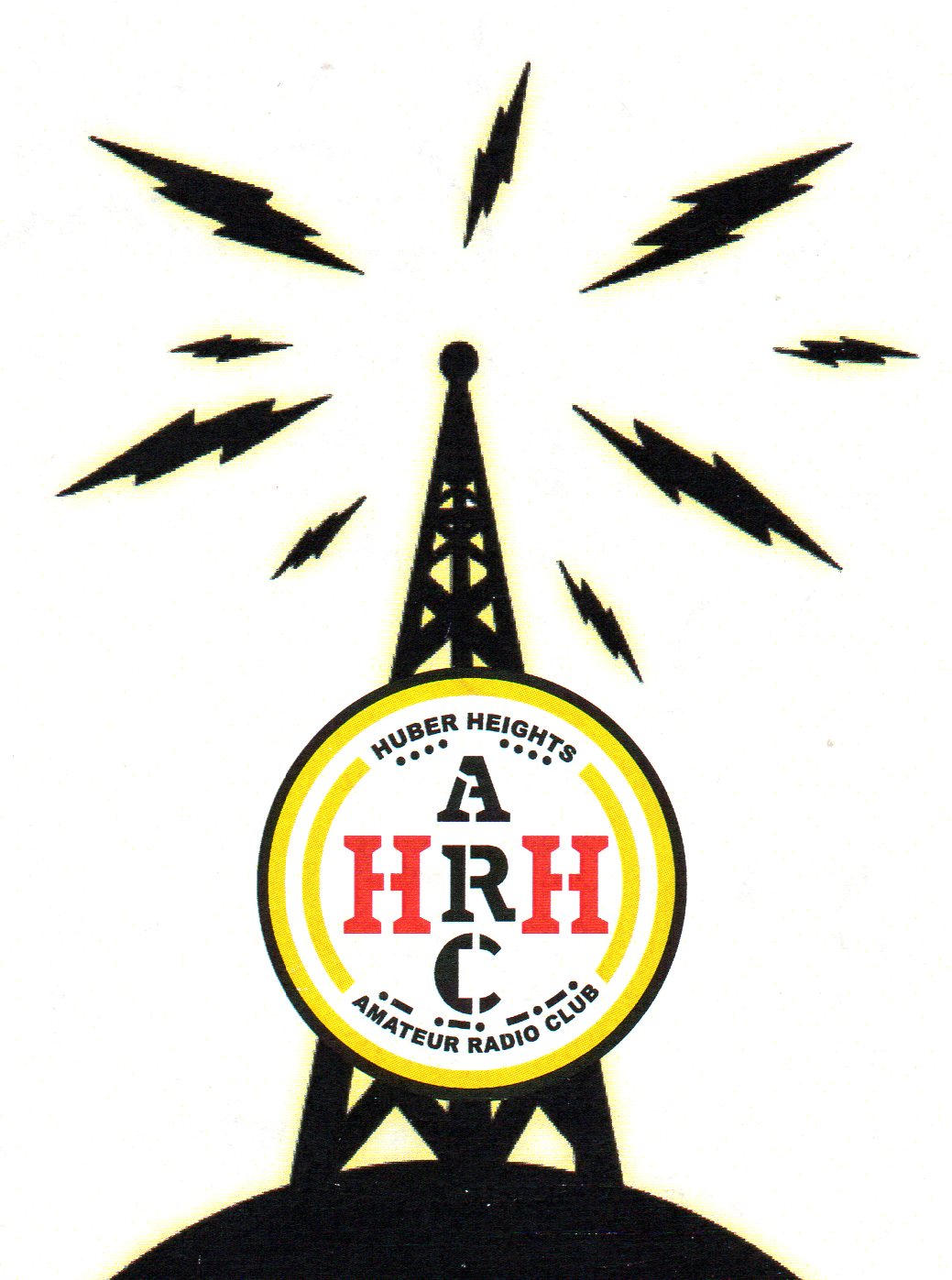 The Huber Heights Amateur Radio Club welcomes everyone interested in Amateur Radio (whether licensed or not). Please feel free to attend our meetings.
We meet every first Saturday of each month. Our next official meeting is Saturday, Sept 3, 2016.
10 am to noon at
First Christian Church
6114 Fishburg Rd
Huber Heights, OH 45424
Corner of Fishburg and Bellefontaine Rd
in "The Forge" building in the back.
See map
For more information on our club, Click Here for a link to a brochure suitable for printing and/or distribution.

Click Here for a link to our Facebook page.
NOTE: HHARC Thursday Night NET Change!
For the foreseeable future, we are changing the time for our Thursday night net from 9 pm to 8:30 pm.
---
Upcoming activities of the HHARC in 2016
May 20 – 22, 2016: Hamvention. This year, as in the past, the HHARC operated a space in the Dayton Hamvention Flea Market at the Hara Arena.
Setting up at Hara Arena Flea Market on Thursday night, May 19: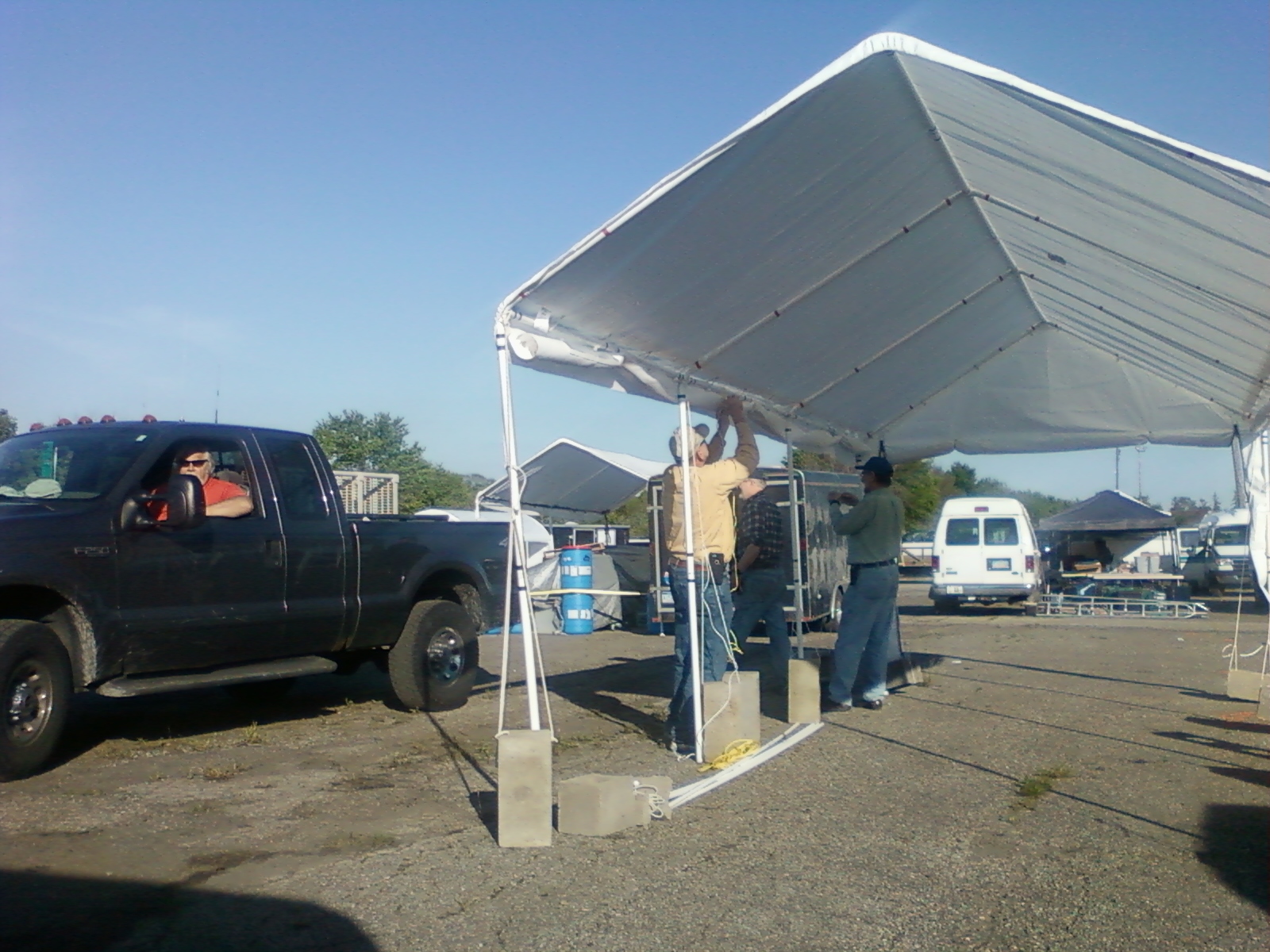 HHARC crew at Hara on Thursday night during our Club Net:
Sam W9SAM, Joe KD8AQH, Larry N8QNM, Phil AC8UW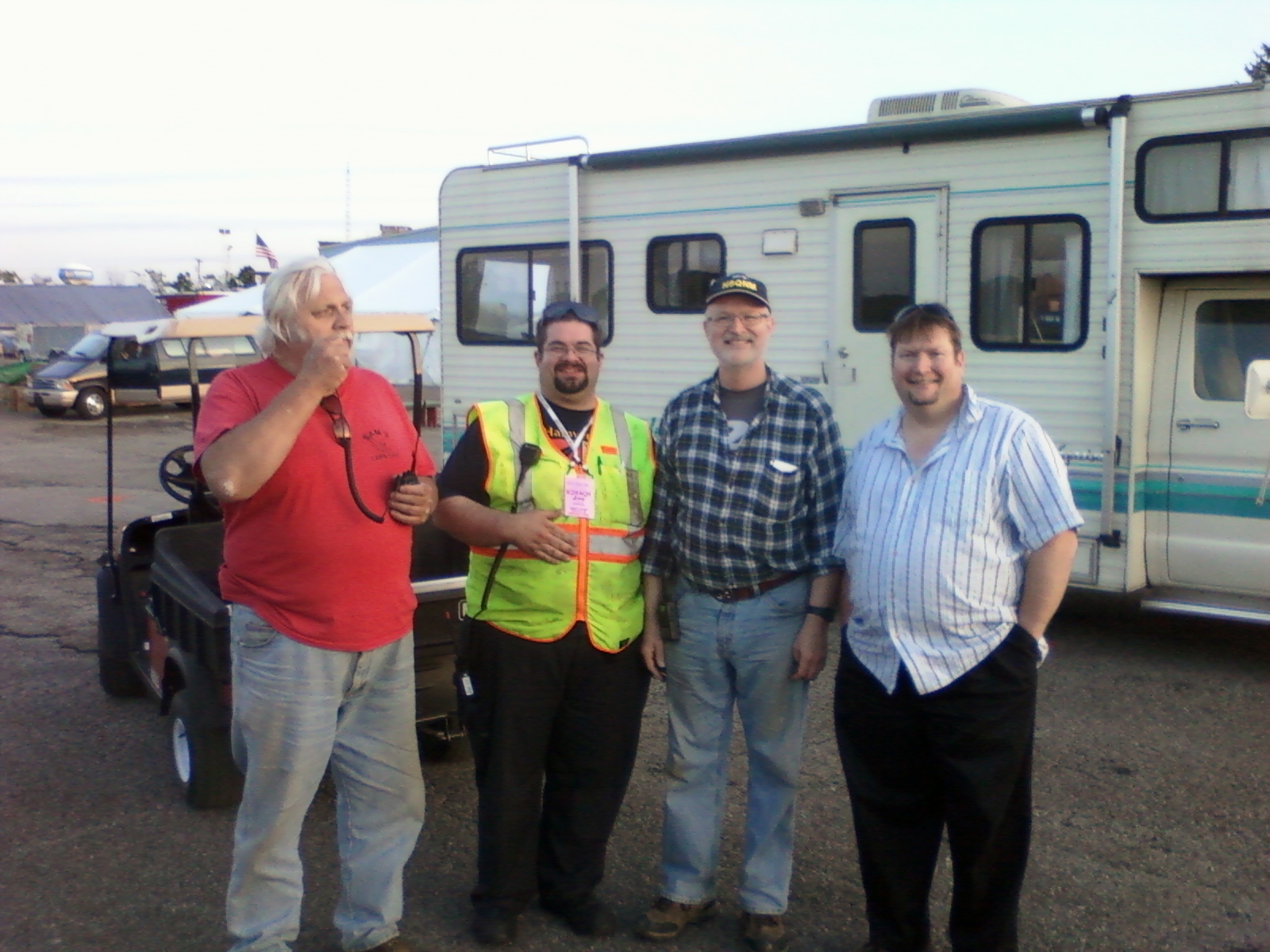 June 25 – 26: Field Day. HHARC to operate out of Cottonwood Park in Huber Heights. See below.
July 2: Independence Day Celebration at Thomas Cloud Park in Huber Heights. Members of the HHARC will be manning the DARA van.
August 27: National Parks On the Air (NPOTA) activation at Wright Brothers Memorial Center, Dayton Aviation Heritage National Historical Park. NO8I will be activating the  North Country Trail (TR04) and one of the Dayton Aviation Heritage Parks (HP11)  at 8 am on August 27th.The NO8I activation will occur at the Wright Memorial on top of the hill near Kaufman Road and SR 444. Activities will take place in the Welcome Center parking lot. See On The Air Links Calendar.
September 10: NPOTA activation at the Wright Brothers Aero Carnival, Dayton Aviation Heritage HP11. We will begin setup between 9 to 9:30 am at the site and will run until 5 pm. We will be located at Booth #1 by the entrance to the event. Directions: from 444, take entrance 16A. Follow this road to Hebble Creek Rd and make an obligatory Left turn; follow Hebble Creek, then make a Right on Marl Road, then a Right on Pylon and follow Pylon to the Aero Carnival.
---
"Field Day 2016″ – June 25 – 26, 2016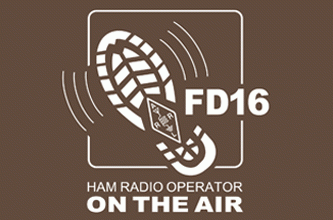 The Huber Heights Amateur Radio Club will again operate from Cottonwood Park on Fishburg Rd in Huber Heights on Field Day 2016. Set-up will begin at 10 am on Saturday, June 25; we plan to begin transmitting by 2 pm. We will need to be finished at the Park by 11 am on Sunday, June 26. Click here for a flyer with more information on our Field Day activities.
HHARC member logs contact with Heard Island DXpedition!
As many in the Ham Radio community know, Heard Island, VK0EK, is one of the most sought after DX locations.
Below is an annotated screenshot showing our club trustee Ron Moorefield, W8ILC, "in the log" with a contact with VK0EK.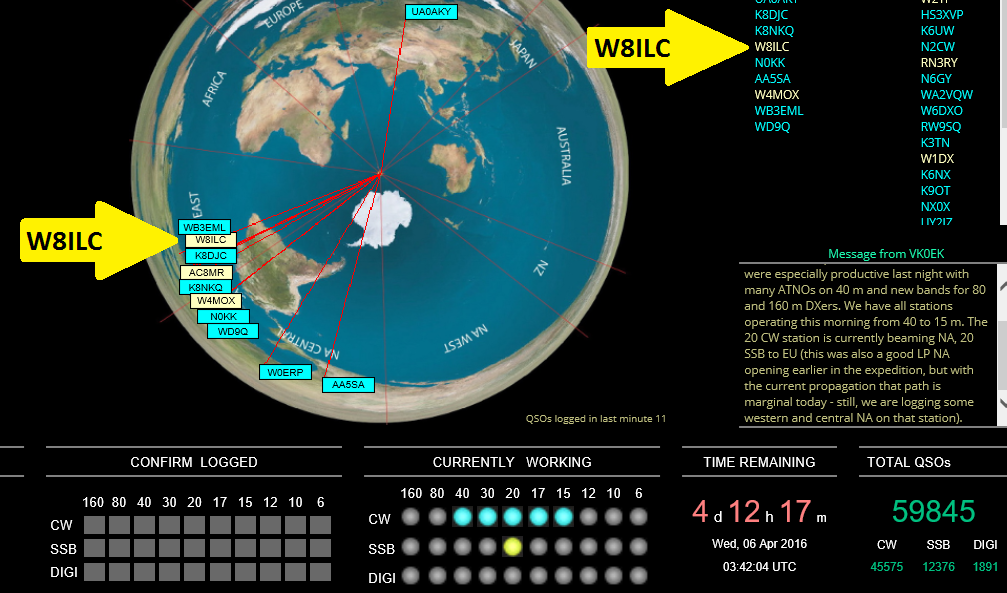 DARA cites Jim Storms as Member of the Month!
At its April 1, 2016 meeting, the Dayton Amateur Radio Association gave its Member of the Month award to Jim Storms, AB8YK. Jim is a member of both the HHARC and DARA.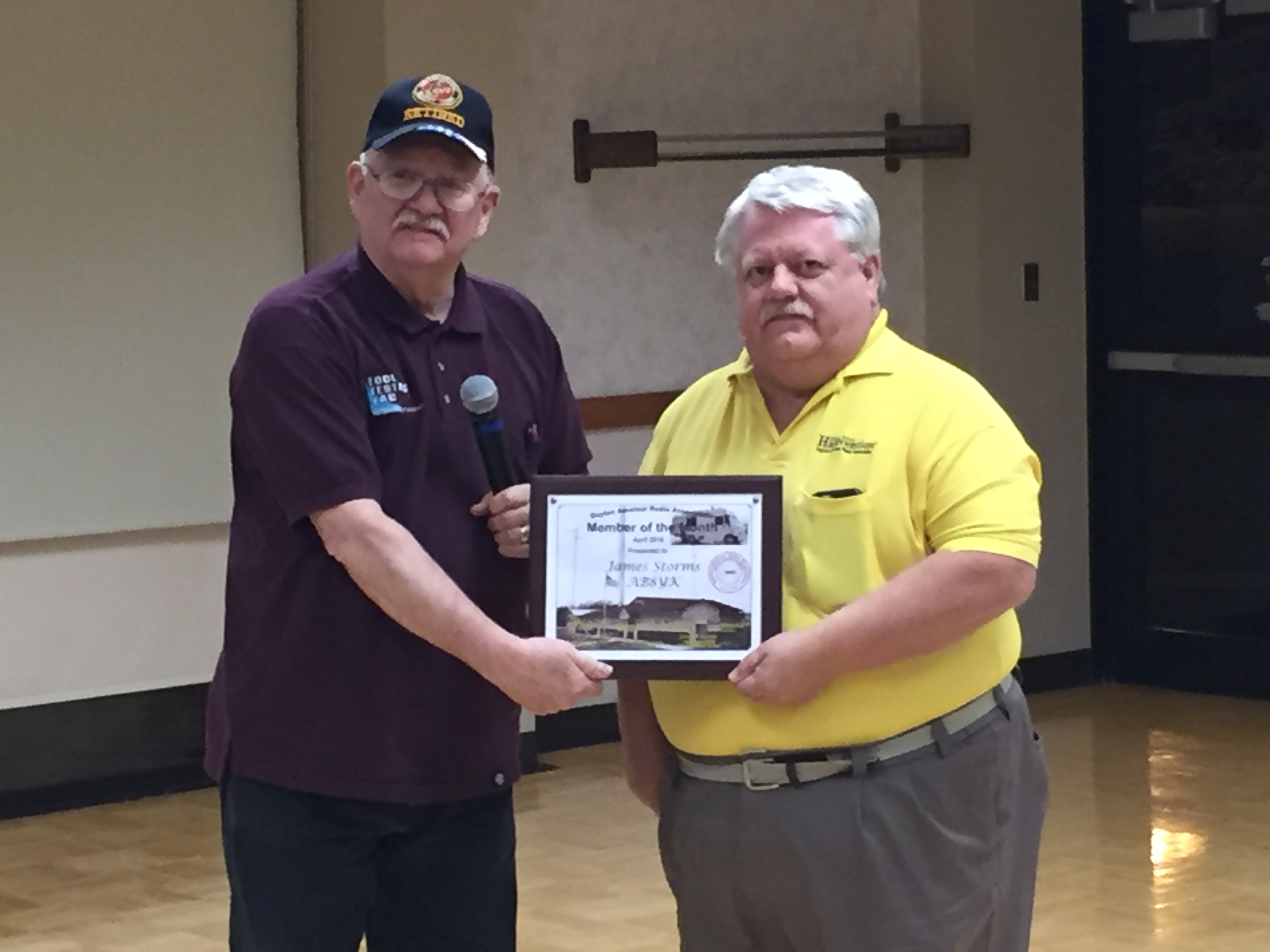 (Jim is the one in the yellow shirt.)
---
2015 ARRL International DX Contest
The weekend of March 7-8, 2015 saw the 2015 ARRL International DX Contest, SSB. Jim AB8YK graciously offered his QTH for hosting the event using the club call NO8I. With the following participants – Stan KC7EHJ, Jane KD8UPX, Larry N8QNM, Don N6JRL, and Ron N8VAR for support, we had a raw score of 196 contacts, 588 Total QSO points, 112 Multipliers with a Total Score of 65,856 using 100 Watts of power with an Inverted V and Dipole.
NO8I was the Winner for the multioperator, single, low-power phone category for the Ohio Section.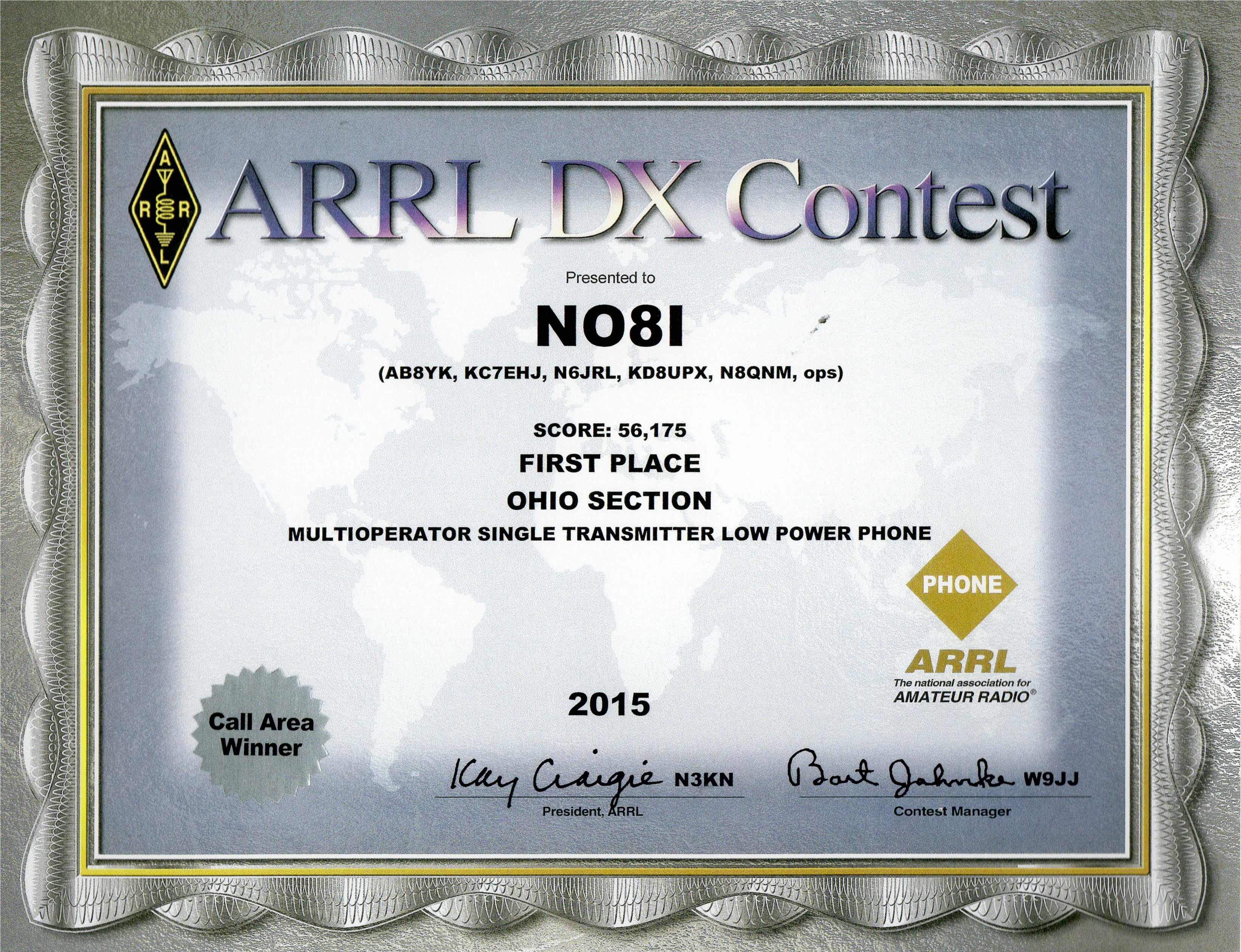 Congratulations and thanks to everyone who helped out.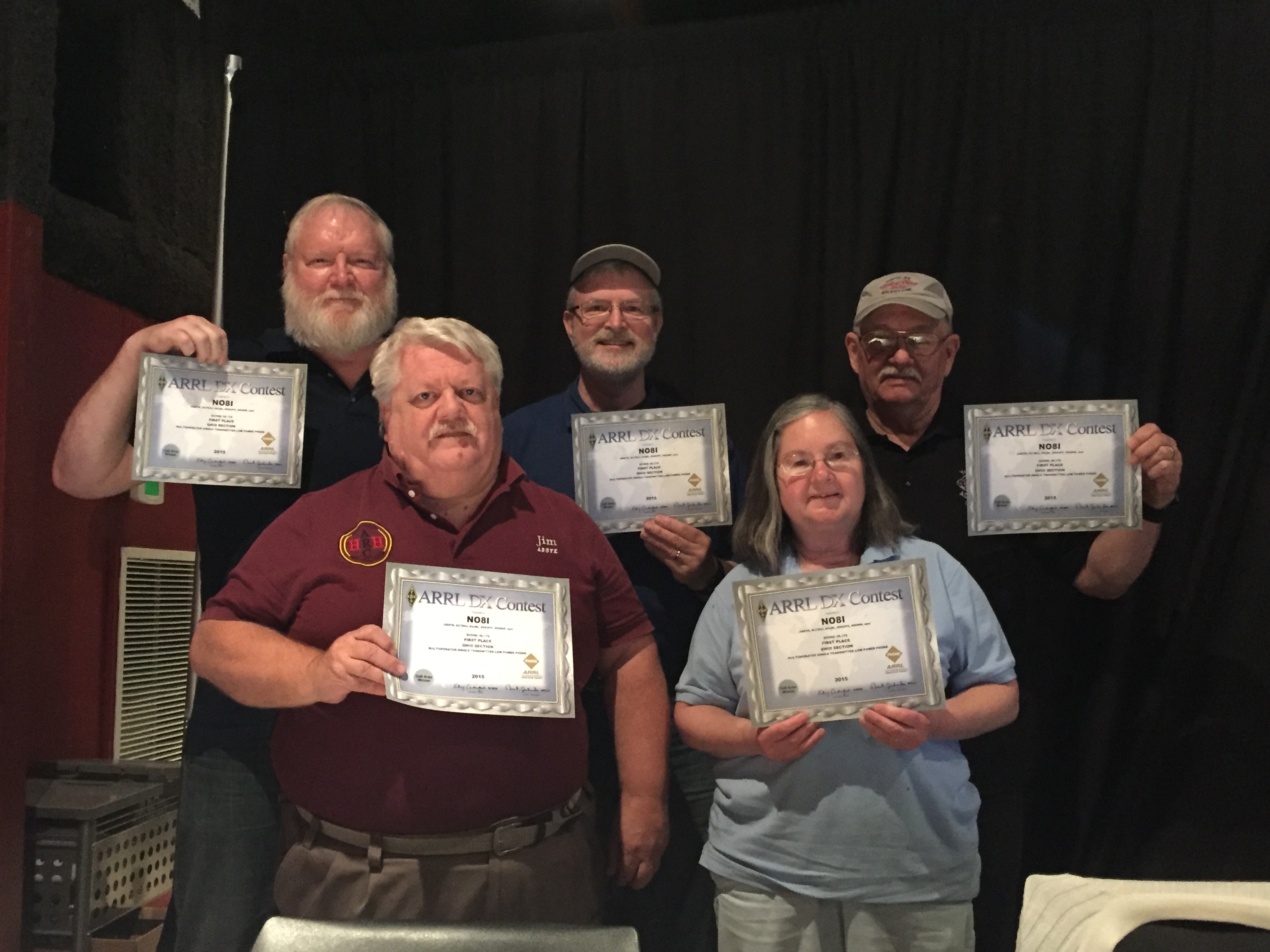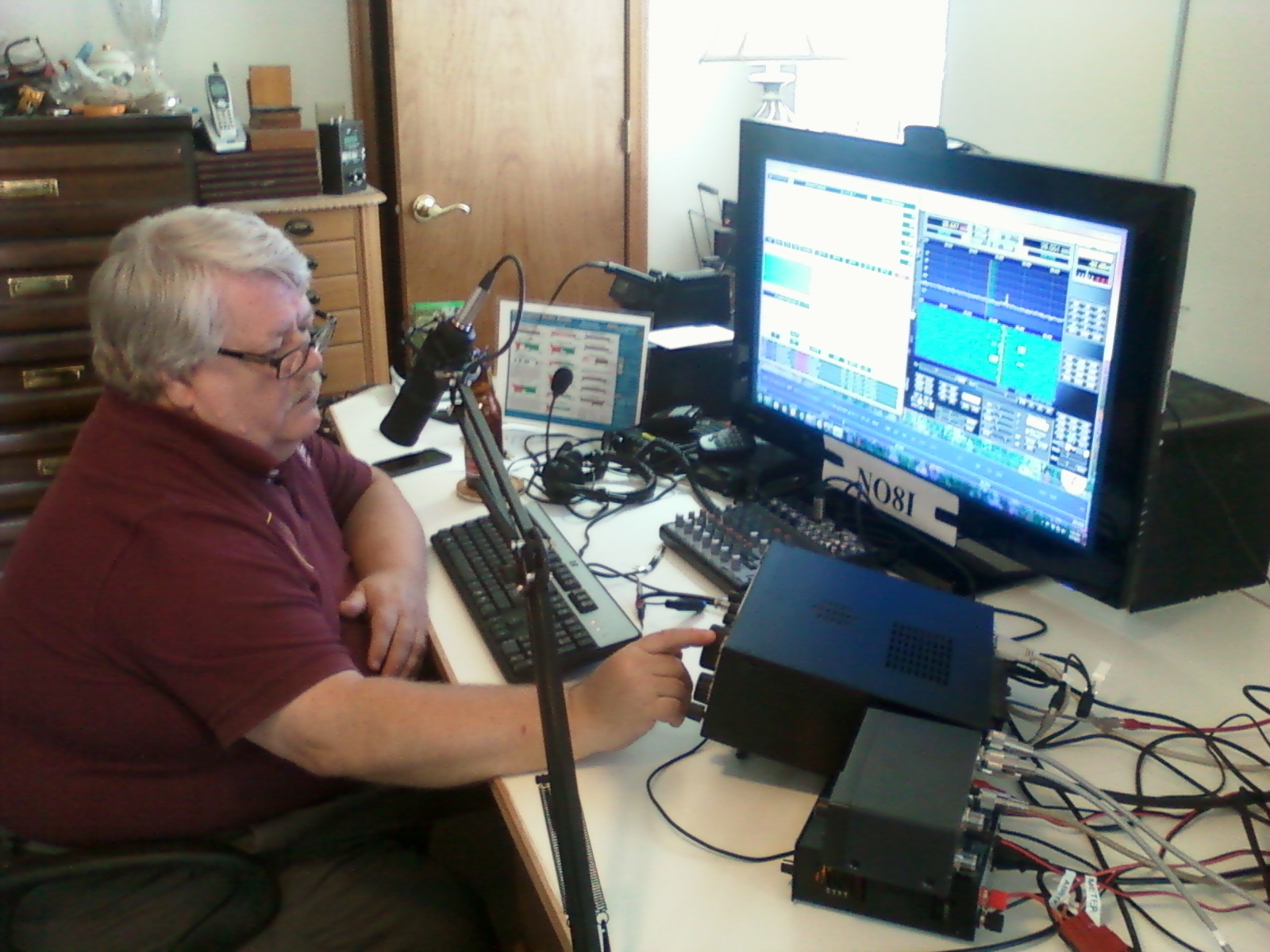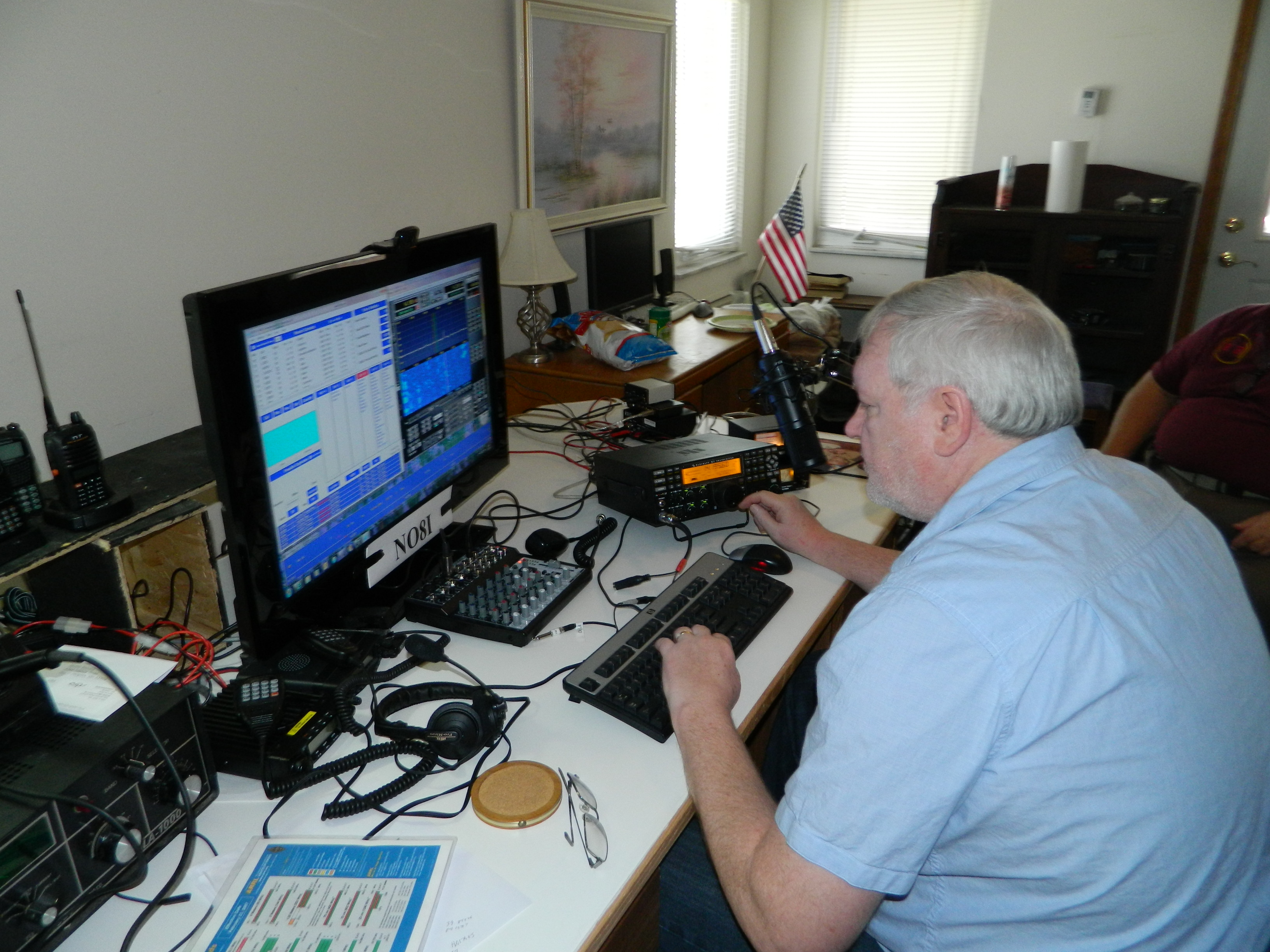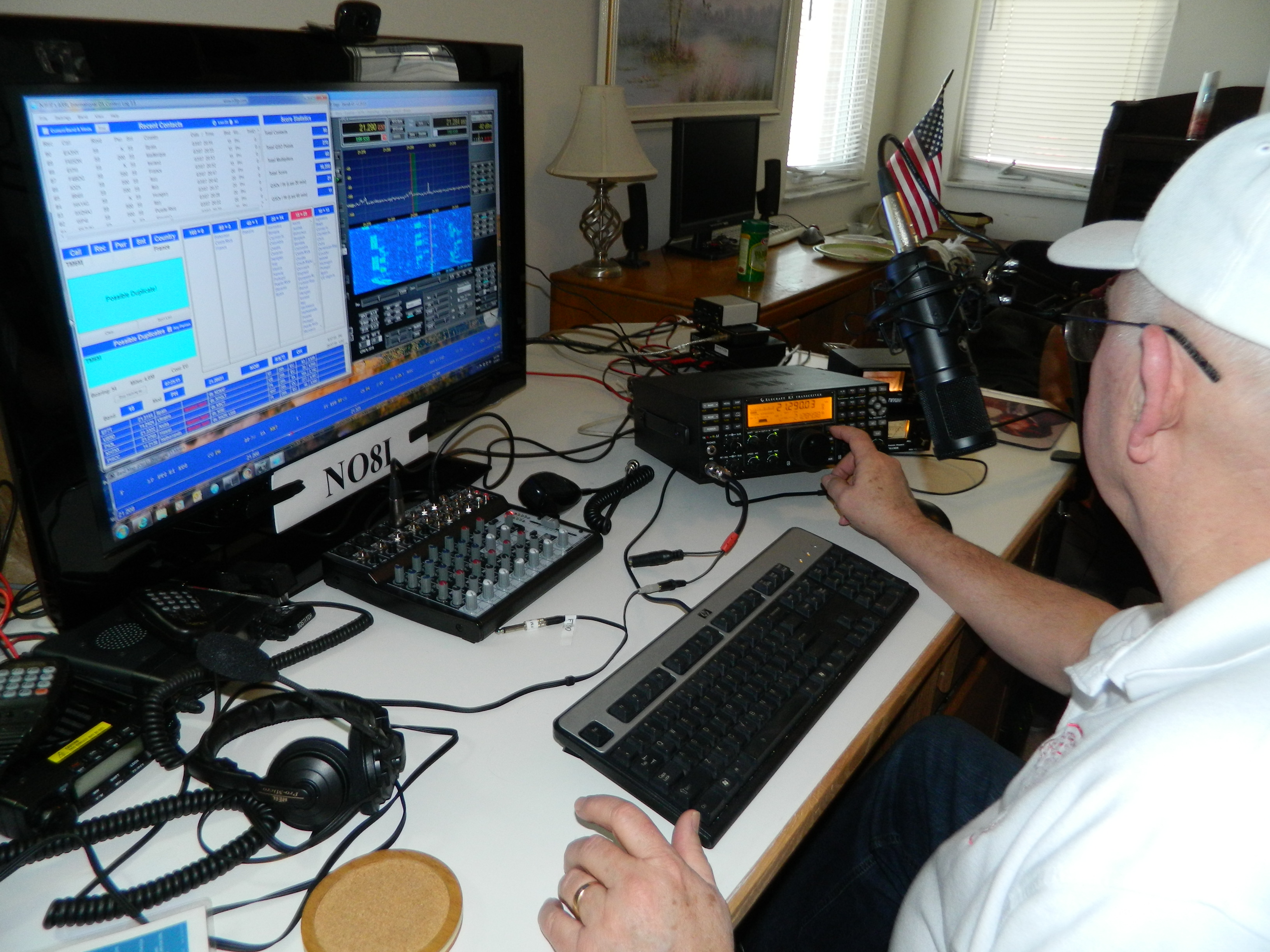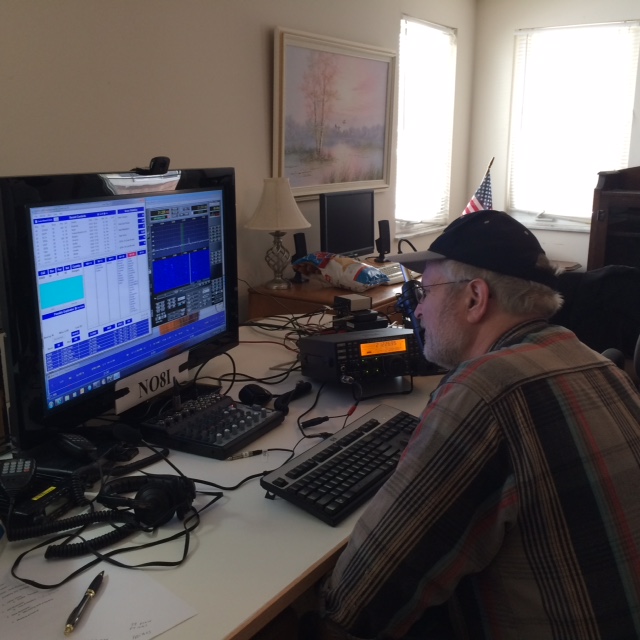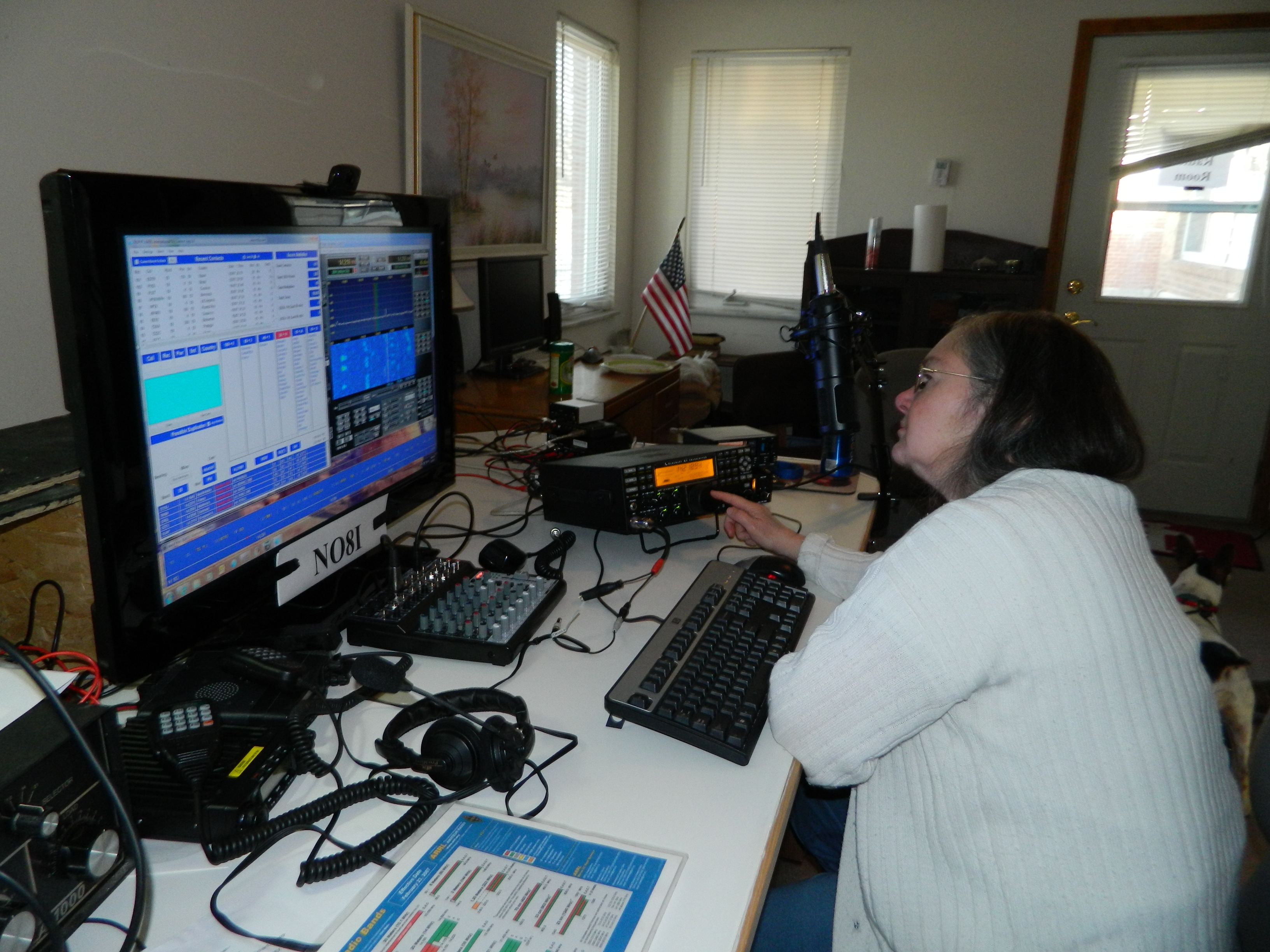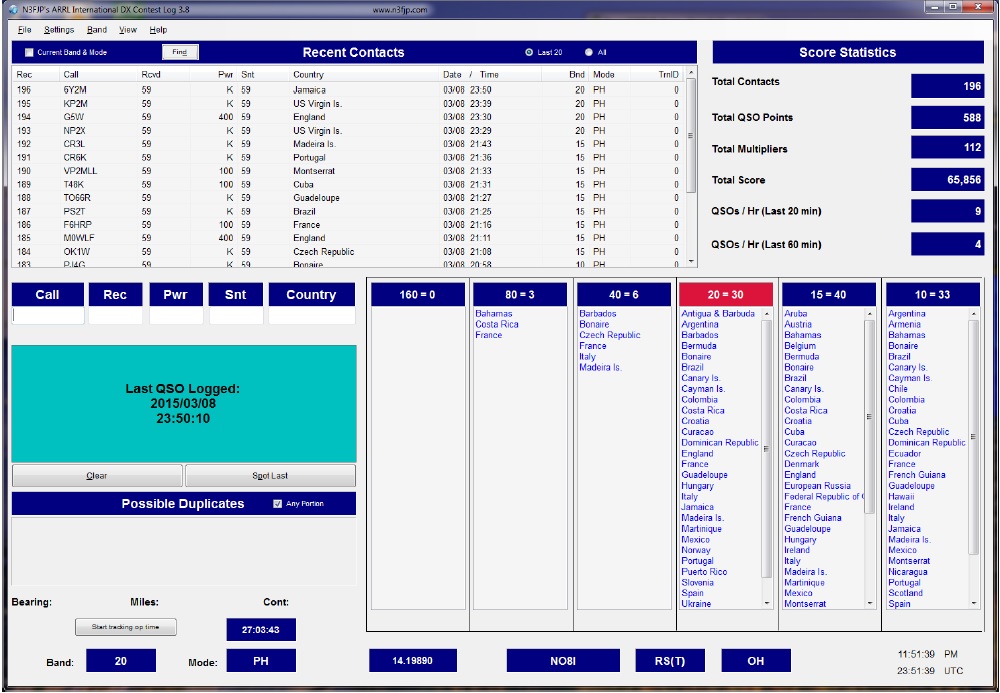 ---
Repeater Move 2015
On August 8th, 2015, members of the Huber Heights Amateur Radio Club (HHARC) gathered to move both our repeaters from the equipment rack that had been its home for a number of years, to the new rack system to make it consistent with our host layout plan in the radio room.
The club would like to give thanks all that helped, either directly or with other support, to make this move happen, particularly Glenn W8AK.


Click here to view pictures of the event.
---
~~Spot the International Space Station!
As the third brightest object in the sky, the space station is easy to see if you know when to look up. Follow the link to find out the locations and times to view the International Space Station as it travels past the Dayton, Ohio area.
Click here to see the current position of the ISS.
---
The Key to Disaster Preparedness is
Amateur Radio Emergency Service (ARES)
Start at the Ohio District 3 Readiness web page.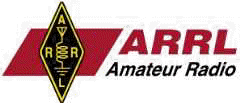 HHARC is an ARRL affiliated club, belonging to the ARRL Great Lakes Division, Ohio Section